Skan-E-Antics Variety Show this Saturday, April 14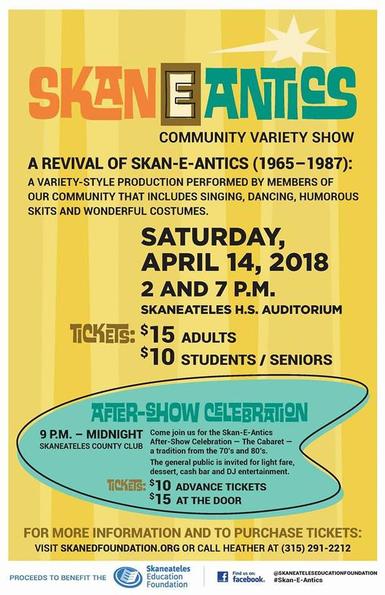 SKANEATELES, NY (April 9, 2018) – The Skaneateles Education Foundation is proud to present the Skan-E-Antics Community Variety Show this Saturday, April 14 inside the Skaneateles High School Auditorium at 2 and 7 p.m.
The show is a revival of Skan-E-Antics from 1965-1987 and is a variety-style production performed by members of the Skaneateles community that includes singing, dancing, humorous skits and wonderful costumes.
Tickets are available for the performances at www.skanedfoundation.org with adult tickets available for $15 and student/senior tickets set at $10.
An after-show celebration will also be held at the Skaneateles Country Club from 9 p.m. to midnight featuring "The Cabaret." This will include light fare, desserts, a cash bar and DJ entertainment. Advance sale ticket purchases are available for $10 with door sales set at $15.
For more information call Heather at (315) 291-2212.
Please enjoy a fun and entertaining evening with the goal of supporting the Skaneateles Education Foundation and the students at Skaneateles Central Schools.
Keep in touch with events and happenings in relation to the Skaneateles Central School District by visiting online at www.skanschools.org or following the district's Facebook page at www.facebook.com/Skaneateles.Schools/.