Pep Rally, Wellness Day Conclude Spirit Week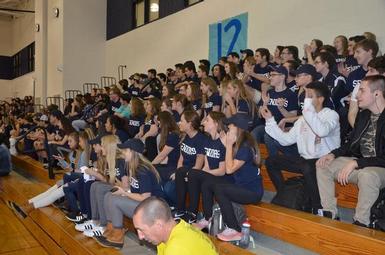 SKANEATELES, NY (January 12, 2018) – Snow Much Pride Week at Skaneateles High School and Skaneateles Middle School came to a conclusion on Friday afternoon with a high school Pep Rally and Wellness Day for students.
A full week of pride was shown with Monday's Twin Day, TV Show Tuesday, Wednesday's Jersey Day, Thursday's Laker Pride Day, and Class Color Day on Friday.

At 12:20 p.m. on Friday, students in both the high school and middle school gathered in their respective gymnasiums to rally school spirit, and rally they did.
The Skaneateles High School gym was filled with students and faculty in all grade levels, as each class was pit against one another in friendly, yet competitive, games of tug of war, relay races, pie eating contests and more.
All extra-curricular groups, clubs, and sports were recognized during the Pep Rally.
After gathering in the middle school gym, middle school students spread throughout school for a variety of wellness activities including 4-square, corn hole, dodgeball, music production, online trivia, sensory items and more.
The day of wellness provided a perfect conclusion to Snow Much Pride Week at both schools.
Keep in touch with events and happenings in relation to the Skaneateles Central School District by visiting online at www.skanschools.org or following the district's Facebook page at www.facebook.com/Skaneateles.Schools/.