Students, Families Enjoy Family Reading Night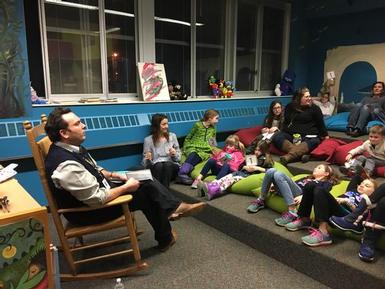 Last night, the teachers at State Street Intermediate School, the Skaneateles Elementary PTC, and school principal Christopher Casler-Goncalves, welcomed State Street families to State Street Intermediate School's inaugural Family Reading Night.

The goal of the evening was to answer the following questions...
How can I inspire my child to read more at home?
How can I begin to instill a love of reading in my child?
How can I support my child's literacy development in a fun way?
Family Reading night offered some creative answers. In alignment with the goal of continually partnering with families to improve students' literacy outcomes, the Skaneateles Elementary PTC and the State Street Intermediate School Team brought students, families, and staff together for a fantastic night of reading and fairytales.

Together the group shared their love of reading and worked together to present meaningful literacy development activities for families to use at home.
Please enjoy photos from the night below: