Skaneateles Football wins First State Championship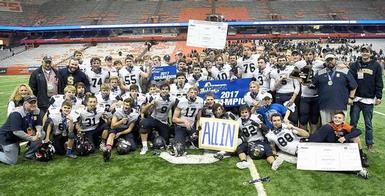 SKANEATELES, NY (November 27, 2017) – Skaneateles High School Football's magical run came to a fitting conclusion on Friday evening as the Lakers held off Holy Trinity by the score of 28-25 to secure their first ever New York State Class C Football Championship.
Ending the season 12-1, the Lakers stormed through the post season defeating Little Falls, Canastota, and General Brown on their way to the Section III title before topping Newark Valley, Cleveland Hills, and Holy Trinity to become state champions.
Charging to a 28-12 lead after three quarters, thanks to the help of three touchdown strikes in the air from Patrick Hackler and a 6-yard score from Areh Boni, the Lakers appeared to be well on their way to victory. However, Skaneateles had to withstand a 13-point rush from Holy Trinity in the fourth quarter to secure the victory.
On their trip home as state champions, Skaneateles police and firefighters met the team bus on Route 321 and escorted the team back to the high school where a host of well-wishers were on hand to greet their newly crowned champions.
Keep in touch with events and happenings in relation to the Skaneateles Central School District by visiting online at www.skanschools.org or following the district's Facebook page at www.facebook.com/Skaneateles.Schools.

Championship Escort - VIDEO

Skaneateles Football Holds on to Win First State Championship in Football - www.syracuse.com