State Street Elementary School Honors Veterans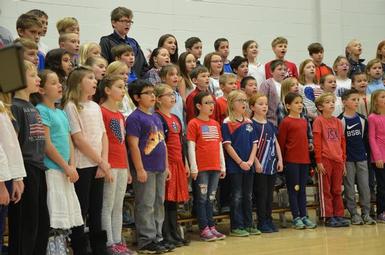 SKANEATELES, NY (November 9, 2017) – Students at State Street Elementary School gathered on Thursday morning in recognition of Veteran's Day, honoring three local Skaneateles veterans.
Colonel Bill Conole of the US Army, Lieutenant Commander Ron Bourque of the US Navy, and Lieutenant Colonel Dan Bangs of the US Air Force joined State Street Elementary students and faculty for their Veteran's Day assembly.
All three veterans were welcomed into the State Street Elementary auditorium by a student led procession of the American flag before the group recited the Pledge of Allegiance.
Mrs. Nancy Fortais then directed the State Street fourth grade class as they sang a pair of songs honoring veterans before a slideshow was presented to the tune of Lee Greenwood's, God Bless the USA.
"We thank our three local veterans for being with us this morning," said Casler-Goncalves. "It is because of these three gentleman, and all of our veterans, that we have the freedoms we have every day."
District residents are reminded that Project 2021, the district's proposed capital improvement project, will be up for vote on Tuesday, November 14. A full listing of Project 2021 details are listed under the Project 2021 quick link at www.skanschools.org. More information will be out on the pending project in the coming weeks.
Keep in touch with events and happenings in relation to the Skaneateles Central School District by visiting online at www.skanschools.org or following the district's Facebook page at www.facebook.com/Skaneateles.Schools.