HS Drama Performances through the Weekend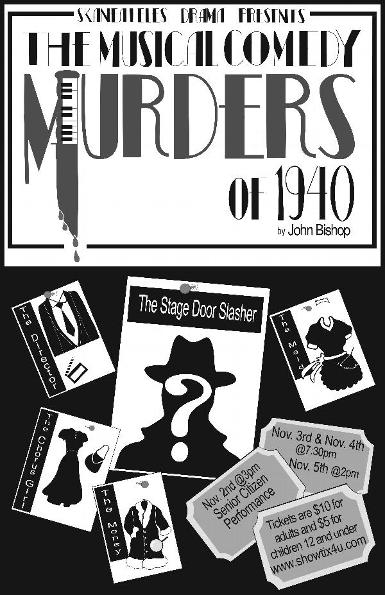 SKANEATELES, NY (November 3, 2017) – Skaneateles High School Drama's presentation of Musical Comedy Murders of 1940 officially opens tonight in the Skaneateles High School auditorium at 7:30 p.m. and will run through the weekend.

Performances on Friday, November 3 and Saturday, November 4 will begin at 7:30 p.m. with the Sunday, November 5 performance beginning at 2:00 p.m.

The play takes place in a mansion in Chappaqua, NY in December of 1940.

A brief overview of the show explains that the creative team for a recent Broadway flop, in which three chorus girls were murdered by the mysterious "Stage Door Slasher," assemble for a backer's audition of their show at the Westchester estate of a wealthy socialite.

The house is replete with sliding panels, secret passageways, and a German maid who is apparently four different people – all of which figure diabolically in the comic mayhem that follows when the infamous slasher makes his appearance and strikes again.

Tickets for the performance can be purchased online at www.showtix4u.com or at the door of each performance.

District residents are reminded that Project 2021, the district's proposed capital improvement project, will be up for vote on Tuesday, November 14. A full listing of Project 2021 details are listed under the Project 2021 quick link at www.skanschools.org. More information will be out on the pending project in the coming weeks.
Keep in touch with events and happenings in relation to the Skaneateles Central School District by visiting online at www.skanschools.org or following the district's Facebook page at www.facebook.com/Skaneateles.Schools.