Football, X-Country, Swimming in Sectionals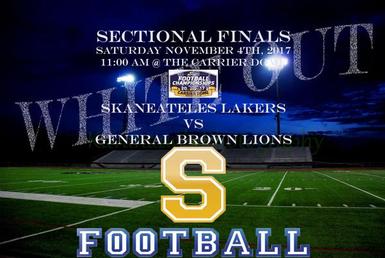 SKANEATELES, NY (November 3, 2017) – A total of four Skaneateles High School athletics programs will continue in Section III championship action on Friday and Saturday of this weekend.
Girl's swimming & diving will compete in the Section III Class C Championships as a team, with 15 of 21 swimmers and divers qualifying for individual events.
The diving portion of the championships took place on Thursday at Nottingham with the swimmers in action on Friday at 5 p.m. in the Skaneateles YMCA.
The boy's and girl's cross country teams will take on sectionals on Saturday at 10 a.m. at Vernon-Verona-Sherrill High School.
The Skaneateles Lakers football squad defeated Canastota 28-21 in the Section III Class C semi-final on Saturday, earning a trip to the Syracuse University Carrier Dome this Saturday, November 4 to take on top seeded General Brown in the sectional championship game.
Saturday's contest will kick-off at 11 a.m. in the Dome versus General Brown, the second ranked team in the state. Last year, General Brown lost the Class C title to Lowville, but the program has recently won Class C championships in 2009, 2010, and 2013.
District residents are reminded that Project 2021, the district's proposed capital improvement project, will be up for vote on Tuesday, November 14. A full listing of Project 2021 details are listed under the Project 2021 quick link at www.skanschools.org. More information will be out on the pending project in the coming weeks.
Keep in touch with events and happenings in relation to the Skaneateles Central School District by visiting online at www.skanschools.org or following the district's Facebook page at www.facebook.com/Skaneateles.Schools.