French Class Explores Adjectives with "Creatures"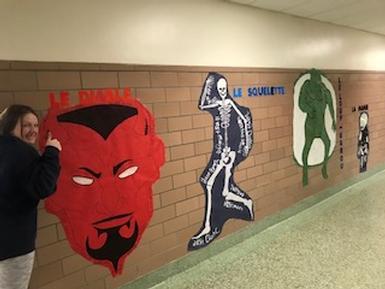 Mrs. Taylor's French 3 class explores their adjective studies through the use of creatures from "La Veille de la Toussaints" (Halloween).

They have decorated the World Language hallway with adjectives to describe creatures such as La Sorciere (Witch), Le Loup-Garou (Werewolf), Le Montsre (Monster), La Momie (Mummy), Le Diable (Devil), Le Squellette (Skeleton, and Le Zombi (Zombie).

The drawings will also be featured in this year's Haunted Hallways, which takes place tonight (Oct. 31) in the hallways of the high school from 6:30-8:30 p.m.