Football Moves to Sectional Final in Carrier Dome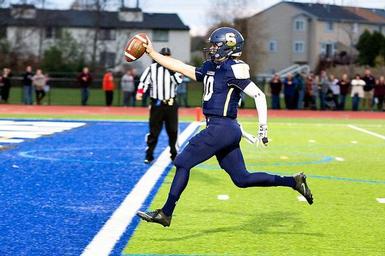 The Skaneateles Lakers football squad defeated Canastota 28-21 in the Section III Class C semi-final on Saturday, earning a trip to the Syracuse University Carrier Dome this Saturday, November 4 to take on top seeded General Brown in the sectional championship game.



Down 21-14 at halftime, Skaneateles scored in the third quarter to tie the contest before Nick Wamp took a 10-yard pass from Patrick Hackler and turned it into a 65-yard score, hurrying down the right sideline, to take the lead 28-21 with just 2:37 left in the game. Wamp's score was the difference maker, sending Skaneateles to the Carrier Dome for its first Section III championship final in five seasons.

Wamp caught 8 passes on the day for 189 yards and two scores, while Hackler threw for 367 yards and three scores and ran for 103 yards and another touchdown.

Saturday's contest will kick-off at 11 a.m. in the Dome versus General Brown, the second ranked team in the state. Last year, General Brown lost the Class C title to Lowville, but the program has recently won Class C championships in 2009, 2010, and 2013.

Skaneateles was ranked 8th in the state before Saturday's win against Canastota.

For more detailed information, visit the link below for a full game recap from www.syracuse.com.

Skaneateles Squeezes Past Canastota 28-21

In other playoff news, the Skaneateles Lakers girl's volleyball team fell to Solvay 3-2 in the opening round of the Section III Class B tournament.

Skaneateles rallied in the contest to tie the score at 2-2 before Solvay won the final set 25-18 to move onto the sectional semi-final versus Westhill.

Skaneateles ends 2017 with an overall record of 10-7.