Interact Club Preparing for Haunted Hallways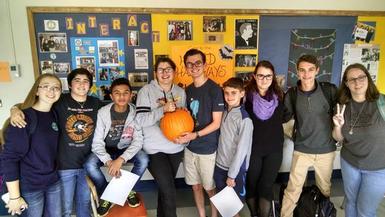 Skaneateles High School Interact Club students are busy preparing to turn their school into Haunted Hallways for the 8th annual Halloween event.
This year's theme is the Haunted Hallways of Lakeview Penitentiary … a ghostly place that promises to surprise and frighten anyone brave enough to join a tour.
It is on Halloween night from 6:30 p.m. to 8:30 p.m. (Tuesday, October 31) in the Commons area between the HS and MS. Please enter at the Commons only.
Cider and donuts will be served by the Skaneateles Rotary Club.
Donations welcome. Proceeds will go to help hurricane victims through a Rotary/Interact partnership with ShelterBoxUSA.