Freshmen, Laker Leaders to Paint Pumpkins Friday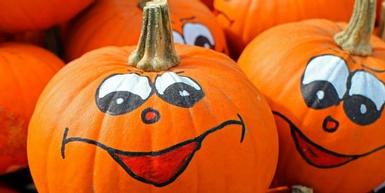 SKANEATELES, NY (October 17, 2017) – Skaneateles High School freshmen will join their senior Laker Link Leaders this Friday in the high school cafeteria for pumpkin painting during Activity Period.
Pumpkins are being provided by Tim's Pumpkin Patch in Marietta, NY, with the high school PTC donating the paints for the event.
Cider will also be provided as a fall refreshment.
The Laker Link program sees a senior mentor assigned to each freshman student, helping to guide them through their first year at the high school.
The Laker Link mentor program gives freshmen an opportunity to discover methods for social and academic success while also learning what to expect and how to prepare for high school. In the process, the goal is for freshmen to expand their circle and make new friends at the same time.
District residents are reminded that Project 2021, the district's proposed capital improvement project, will be up for vote on Tuesday, November 14. A full listing of Project 2021 details are listed under the Project 2021 quick link at www.skanschools.org. More information will be out on the pending project in the coming weeks.
Keep in touch with events and happenings in relation to the Skaneateles Central School District by visiting online at www.skanschools.org or following the district's Facebook page at www.facebook.com/Skaneateles.Schools.