Rotary Provides Dictionaries to State Street 3rd Grade
---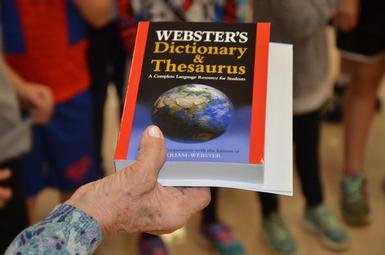 SKANEATELES, NY (October 10, 2017) – Members of the Skaneateles Rotary Club presented the third grade classes of State Street Elementary School with a copy of the latest Webster's Dictionary & Thesaurus for Students on Wednesday morning in the State Street cafeteria.
The books were once again provided by local Rotarians as part of the Rotary's efforts to enhance literacy skills worldwide.
Skaneateles Rotary Club President, Mary Giroux, presented each student in the third grade class with their new dictionary & thesaurus.
"On behalf of the Skaneateles Rotary Club we are happy to present each of you with the Webster's Dictionary & Thesaurus," said Giroux. "We hope you all enjoy it for many years to come."
The classes of Mrs. Herr, Mrs. Rigling, Mrs. Whirtley, and Mr. Yost were all welcomed to the State Street cafeteria to learn more about Rotary, receive their dictionary & thesaurus, and take a group photo.
The Skaneateles Rotary Club and the Skaneateles Central School District have a longstanding relationship.
Each year a number of high school students spend a year studying abroad under the Rotary Youth Exchange Program. This year, outbound students in that program included Maddie Bohrer, Carter Stregiel, and Malcolm Lombardi.

The program also welcomes inbound students with Kashyap Lalwala coming to Skaneateles from India and Eduardo Honorato de Freita coming from Brazil.
The high school's Interact Club is a Rotary organized and sponsored community service organization for students age 14-18, while the Rotary also selects and sends one to three students to attend a weekend Youth Leadership program each summer.
Literacy is the key focus of Rotary International, supported by the efforts of Rotary Clubs throughout the world.
District residents are reminded that Project 2021, the district's proposed capital improvement project, will be up for vote on Tuesday, November 14. A full listing of Project 2021 details are listed under the Project 2021 quick link at www.skanschools.org. More information will be out on the pending project in the coming weeks.
Keep in touch with events and happenings in relation to the Skaneateles Central School District by visiting online at www.skanschools.org or following the district's Facebook page at www.facebook.com/Skaneateles.Schools.