High School Open House on Thursday
---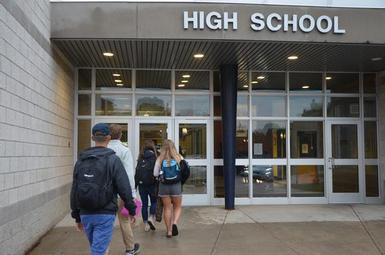 SKANEATELES, NY (October 4, 2017) – Skaneateles High School's open house will take place on Thursday, October 5, beginning at 7 p.m.
The annual open house will follow its traditional "daily schedule" format, with parents heading to their child's homeroom class from 7:00 – 7:10 p.m.
Beginning at 7:13 p.m. parents will move to first period, then follow the remaining daily schedule from there, with each period lasting ten minutes. Parents are reminded to skip their child's lunch period and simply attend either their fifth or sixth period class.
During periods that are scheduled for study halls or labs, parents are encouraged to visit the information tables set-up in the main office hallway, tour the building, and socialize with other parents and staff in the library.
Refreshments will be provided in the library through the evening.
Immediately after ninth period, which will end at 8:54 p.m., parents are asked to move to the auditorium for a brief overview of high school communication tools.
District residents are reminded that Project 2021, the district's proposed capital improvement project, will be up for vote on Tuesday, November 14. A full listing of Project 2021 details are listed under the Project 2021 quick link at www.skanschools.org. More information will be out on the pending project in the coming weeks.
Keep in touch with events and happenings in relation to the Skaneateles Central School District by visiting online at www.skanschools.org or following the district's Facebook page at www.facebook.com/Skaneateles.Schools.

SCHEDULE:

H.R. - 7:00-7:10
Period 1 - 7:13-7:23
Period 2 - 7:26-7:36
Period 3 - 7:39-7:49
Period 4 - 7:52-8:02
Period 5/6 - 8:05-8:15
Period 7 - 8:18-8:28
Period 8 - 8:31-8:41
Period 9 - 8:44-8:54
Period 10 - 8:57-9:17 Counseling Team (H.S. Auditorium)