Club & Activities Fair Set for Tuesday in HS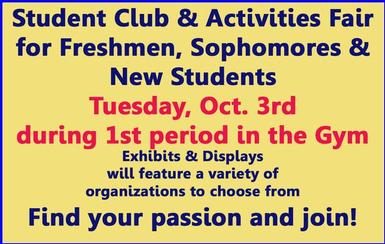 SKANEATELES, NY (September 26, 2017) – Skaneateles High School will hold its Student Club & Activities Fair in the high school gymnasium on Tuesday, October 3 during first period.
The activities fair is open for freshman, sophomores, and new students featuring a variety of organizations and clubs to choose from and learn more about.
Several exhibits and displays will be on hand as students explore their passion and look to join.
District residents are reminded that Project 2021, the district's proposed capital improvement project, will be up for vote on Tuesday, November 14. A full listing of Project 2021 details are listed under the Project 2021 quick link at www.skanschools.org. More information will be out on the pending project in the coming weeks.
Keep in touch with events and happenings in relation to the Skaneateles Central School District by visiting online at www.skanschools.org or following the district's Facebook page at www.facebook.com/Skaneateles.Schools.