H.S. Environmental Club Algal Talk on Oct. 4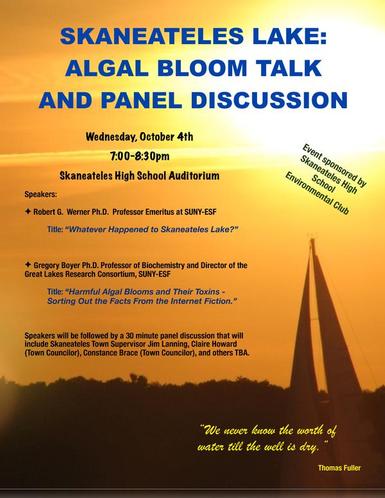 SKANEATELES, NY (September 26, 2017) – The Skaneateles High School Environmental Club will present a talk and panel discussion on the Skaneateles Lake algal bloom on Wednesday, October 4, featuring key speakers and town representatives in the Skaneateles High School Auditorium.
The evening's program will run from 7:00 – 8:30 p.m. with speakers Robert G. Werner Ph.D., Professor Emeritus at SUNY–ESF, as well as Gregory Boyer Ph.D, Professor of Bio Chemistry and Director of the Great Lakes Research Consortium at SUNY–ESF.
Speakers will be followed by a 30-minue panel discussion that will include Skaneateles Town Supervisor Jim Lanning, along with Town Councilors Claire Howard and Constance Brown.
District residents are reminded that Project 2021, the district's proposed capital improvement project, will be up for vote on Tuesday, November 14. A full listing of Project 2021 details are listed under the Project 2021 quick link at www.skanschools.org. More information will be out on the pending project in the coming weeks.
Keep in touch with events and happenings in relation to the Skaneateles Central School District by visiting online at www.skanschools.org or following the district's Facebook page at www.facebook.com/Skaneateles.Schools.