Ride for Missing Children Coming to Middle School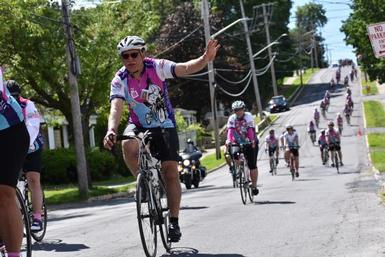 SKANEATELES, NY (September 25, 2017) – The 21st annual Ride for Missing Children will make a stop at Skaneateles Middle School on Friday, September 29 at 10:45 a.m.
The annual ride benefits The National Center for Missing & Exploited Children with over 400 riders taking part to honor the memory of all missing children, to raise public awareness of the plight of all missing and exploited children and the need for child safety education, as well as to raise funds to support the mission of the NCMEC.
The ride is a one day, 100-mile bike ride that stops at schools along the route, including Skaneateles Middle School.
To help support the cause and raise awareness, paper bikes are available in the Middle School for a donation of just $1. Students who donate to the cause will be able to write their name on the bike and have it displayed in the Commons during the Ride for Missing Children rest stop to show their support of the cause.

For more information on the Ride for Missing Children in Central New York, visit online at www.therideformissingchildren.com.
District residents are reminded that Project 2021, the district's proposed capital improvement project, will be up for vote on Tuesday, November 14. A full listing of Project 2021 details are listed under the Project 2021 quick link at www.skanschools.org. More information will be out on the pending project in the coming weeks.
Keep in touch with events and happenings in relation to the Skaneateles Central School District by visiting online at www.skanschools.org or following the district's Facebook page at www.facebook.com/Skaneateles.Schools.