Casler-Goncalves Begins New Chapter at SCS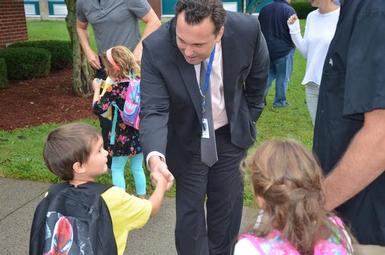 SKANEATELES, NY (September 6, 2017) – With the first day of school having officially arrived, the Skaneateles Central School District is pleased to welcome new Elementary Principal, Christopher Casler-Goncalves.

Casler-Goncalves joined the Skaneateles Central Schools leadership team on July 1, and on Wednesday began a new chapter as the Principal of Waterman Primary School and State Street Intermediate School.
"I'm thrilled to have the opportunity to work for such a dynamic district," said Casler-Goncalves. "I can't wait to continue working with our entire team and to work with our teachers and community to make our students' educational experience as positive and special as possible. We will work to prepare our students for a future where they will have the tools to be successful in their career and personal pursuits."
Affectionately called Mr. G, Casler-Goncalves spent many years as an elementary school teacher in New Jersey, before earning his Master's Degree in Education Leadership. Most recently, he served as the leader of Curriculum Development at the San Diego French-American School.
Casler-Goncalves has strong ties to the Central New York area as wife Jennifer and her entire family are from the Syracuse area. Just recently, the couple welcomed a new baby to their growing family.
Former Skaneateles Central Schools Elementary Principal, Steve Widrick, retired following the 2016-2017 school year after having served in the position for 12.5 years.
District residents are reminded that Project 2021, the district's proposed capital improvement project, will be up for vote on Tuesday, November 14. A full listing of Project 2021 details are listed under the Project 2021 quick link at www.skanschools.org. More information will be out on the pending project in the coming weeks.
Keep in touch with events and happenings in relation to the Skaneateles Central School District by visiting online at www.skanschools.org or following the district's Facebook page at www.facebook.com/Skaneateles.Schools.