SCS Enrollment Up; No Closures in Near Future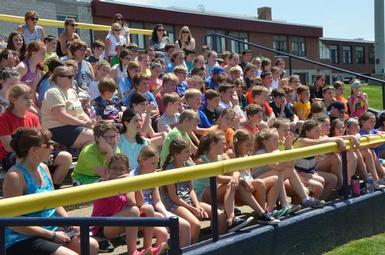 SKANEATELES, NY (August 30, 2017) – As the first day of school draws closer on Wednesday, September 6, current enrollment in the Skaneateles Central School District is 1,361 students as compared to the September 2016 enrollment of 1,354 students. Both numbers exceed projections calculated in January of 2015.
As of August 30, approximately 60 new students have enrolled in the district, which is up from 46 newly enrolled students in 2016.
Coupled with current enrollment and use of building space, Skaneateles Central Schools Superintendent Ken Slentz says there will not be a building closure in the foreseeable future at SCS.
"While decreasing enrollment and fiscal distress in past years led the district to consider a building closure, based on current enrollment, our use of building space, and our financial stability, we will not close a building at any time in the foreseeable future."
Currently Waterman Primary School, Skaneateles Middle School, Skaneateles High School, and the Skaneateles Central School District Office are utilizing all available space.
In fact, based on an increase in enrollment in this year's Kindergarten class, Waterman Primary School has seen a few logistical changes within its halls. In order to accommodate an additional Kindergarten classroom, the District Office has been relocated to its previous location on 45 East Elizabeth Street.
State Street Intermediate School has two classrooms that are not used for day-to-day instruction, but are used as flexible teaching, Odyssey of the Mind practice, and curriculum storage space.
"We are genuinely excited to see the increase in enrollment and the addition of new families to our district", said Slentz. "We hope that our commitment to providing the best possible learning opportunities and experiences in safe and welcoming school buildings is a key driver in the decision of these families to choose Skaneateles."
District residents are reminded that Project 2021, the district's proposed capital improvement project, will be up for vote on Tuesday, November 14. A full listing of Project 2021 details are listed under the Project 2021 quick link at www.skanschools.org. More information will be out on the pending project in the coming weeks.
Keep in touch with events and happenings in relation to the Skaneateles Central School District by visiting online at www.skanschools.org or following the district's Facebook page at www.facebook.com/Skaneateles.Schools.