Sports Teams Advance to NYSPHSAA Contests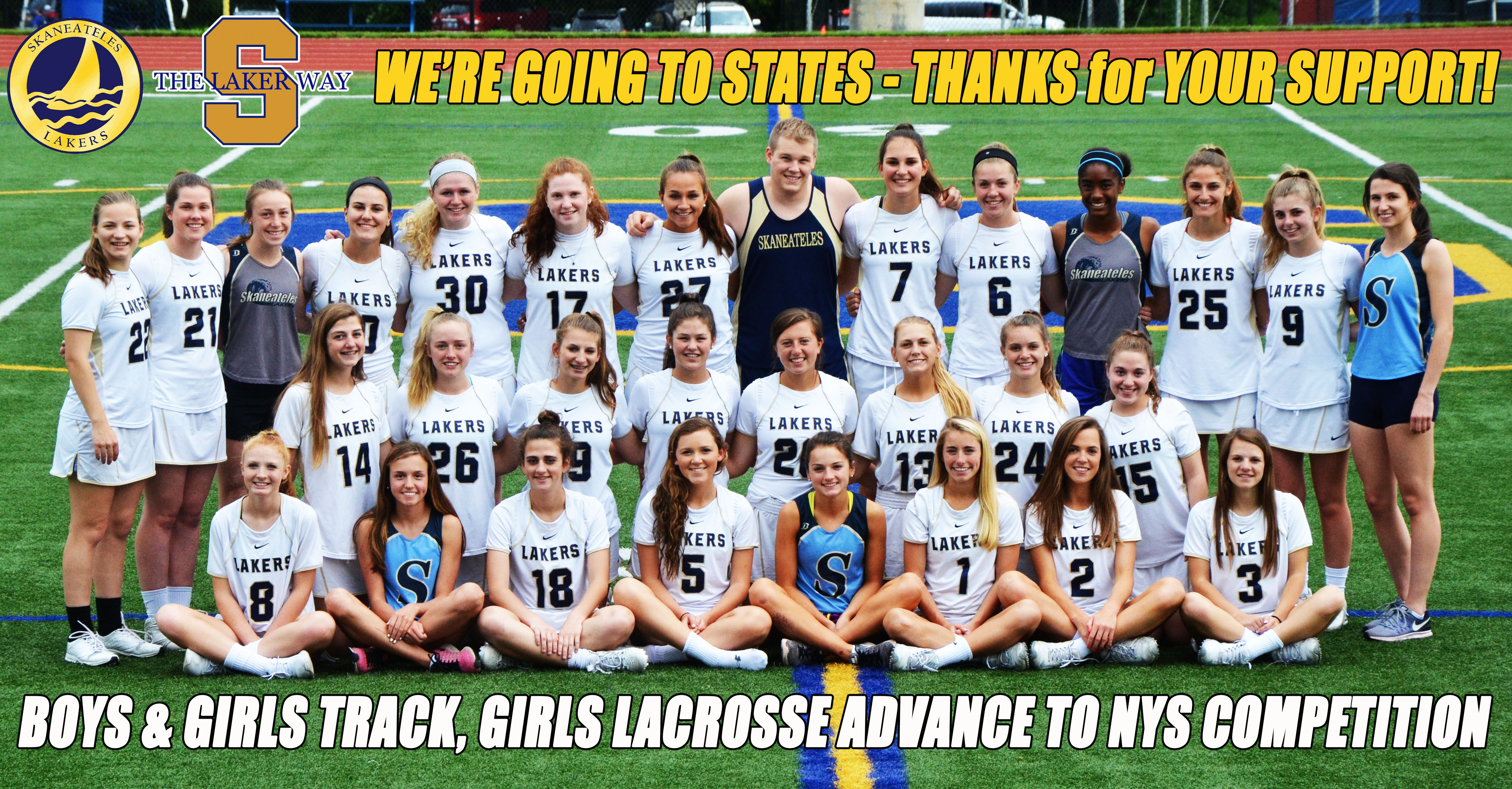 PHOTO - Members of the Skaneateles High School Boys & Girls Track and Girls Lacrosse teams have advance to the NYSPHSAA Championships. Pictured are (First row, left to right) Grace Dower, Emma Conan, Riley Brogan, Abbey Logan, Angela Krause, Kyla Sears, Mae McGlynn, Christiana Ciaccio, (Second row, left to right) Gabi Welch, Rachel Pinney, Grace Kush, Maggie Newton, Mary McNeil, Mikaela Terhune, Sarah Bailey, Kylee Gillmore, (Third row, left to right) Sophie Kush, Olivia Nye, Mia Grasso, Emma Goodell, Emily Baldwin, Alison Weiss, Taylor Hill, Chase Corcoran, Jessica Patalino, Abby Kuhns, Raenah Campbell, Olivia Navaroli, Hope Allyn, and Maddie Peterson. (DeAnn Sears photo)



SKANEATELES, NY (June 6, 2017) – Skaneateles High School will be represented well in this year's New York State Public High School Athletic Association Championships as members of the Boys & Girls Track team as well as the Girls Lacrosse team have advanced to championship rounds of their respective sports.

The Boys & Girls Track teams will travel to Union-Endicott High School on Friday, June 9 to take part in the NYSPHSAA Track and Field Championships beginning at 9 a.m.

The Girls Lacrosse team, who won their fifth consecutive sectional title, will face Palmyra-Macedon in the NYSPHSAA Girls Lacrosse Championship semi-finals at SUNY Cortland on Friday, June 9 beginning at 2 p.m.

Winners of the 2005, 2006, and 2014 NYSPHSAA Girls Lacrosse State Championships, the Lakers lacrosse team fell in last year's state championship final against Mount Sinai and hope to rebound this year as the No. 3 seed in the state tournament.

Skaneateles defeated Chenango Forks and Canton to advance to this year's state semi-final.

Tickets can be purchased for the Track & Field Championships and Girls Lacrosse Championships online at www.gofan.co. Type NYSPHSAA (New York) into the search window and select the sport you wish to attend.

Skaneateles Central Schools, the Boys & Girls Track team, and the Girls Lacrosse team join each other in thanking the Skaneateles community for its support and hope to see the community at their games this weekend.

Keep in touch with events and happenings in relation to the Skaneateles Central School District by visiting online at www.skanschools.org or following the district's Facebook page at www.facebook.com/Skaneateles.Schools/.