New Members Inducted into Art Honor Society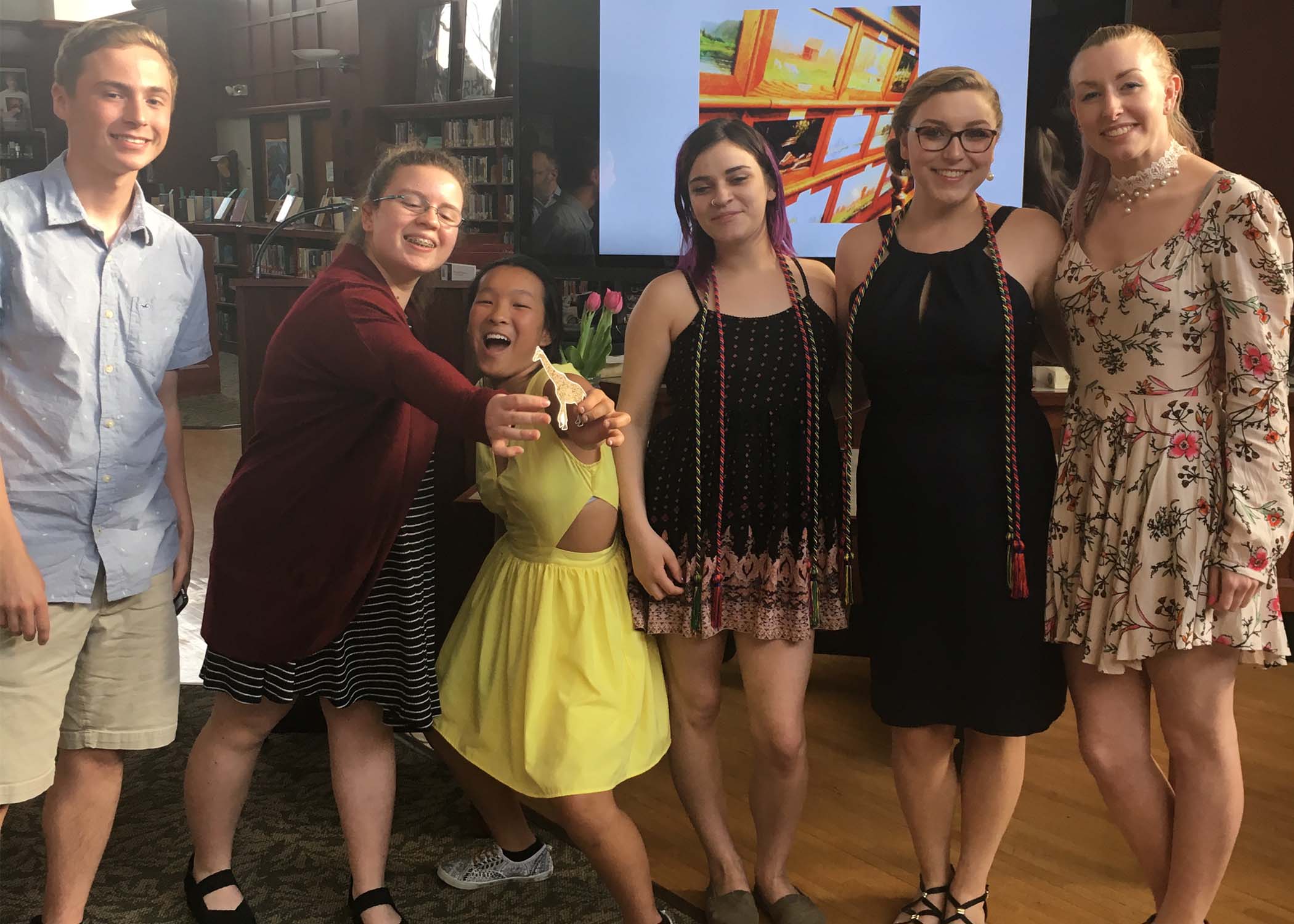 PHOTO - Lawrence Gray, Isabella Kroon, Meg Benedict, Abbie Scala, Kao Howard, and Mary Lambdin are the six new members of Skaneateles High School's National Art Honor Society. (Jessica Sawchuk photo)



SKANEATELES, NY (May 24, 2017) – A total of six new members were inducted into Skaneateles High School's National Art Honor Society on Tuesday, May 23 in the high school library.

Students Meg Benedict, Lawrence Gray, Kao Howard, Abbie Scala, Mary Lambdin, and Isabella Kroon were honored as new inductees at the ceremony which featured a small art show with work of the inductees as well as refreshments.

The National Art Honor Society recognizes the commitment of students to make art and creativity part of their lives.

In order to be inducted students must visit art galleries and attend related field trips, volunteer 5-10 hours in the community doing something art related, and maintain an 80 or above cumulative average throughout the school year.

"Even small contributions, like the ones these students make the time for in their busy lives, make an impact on our school and community," said Skaneateles High School Art teacher, Jessica Sawchuk. "I am impressed with the level of energy and dedication these students have shown this year."

A handful of members were also recognized with special awards.

Howard and Taylor Carr were honored for putting in 25+ community service hours.

Lambdin was recognized as a leader in the classroom, while Benedict received an excellent sketchbook award.

Maddie Bohrer, Katherine Carlile, Howard, Lambdin, and Scala also received Honor Cords as graduating Seniors.

Local artist Steve Datz brought his artwork to put on display along with student work and also spoke at the ceremony in regards to his experiences, giving advice to members.

Anyone interested in joining the National Art Honor Society can click the link on Jessica Sawchuk's Instagram page @magicintheartroom.

Keep in touch with events and happenings in relation to the Skaneateles Central School District by visiting online at www.skanschools.org or following the district's Facebook page at www.facebook.com/Skaneateles.Schools/.