Five OOTM Teams Advance to State Competition in Binghamton on April 8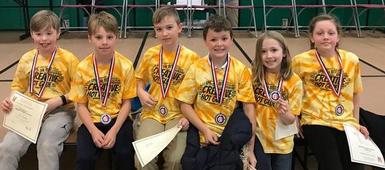 SKANEATELES, NY (March 17, 2017) – Of the ten Skaneateles Central School teams to take part in the Odyssey of the Mind Regional Competition held on the Cayuga-Onondaga BOCES campus on March 11, five of those teams have advanced to the NYS Competition to be held in Binghamton on April 8.

Odyssey of the Mind is a creative problem solving competition that teaches students how to think divergently by providing open-ended problems that appeal to a wide range of interests. Students learn how to identify challenges and to think creatively to solve the problems at hand.

Skaneateles Central School teams in Odyssey of the Mind are open to students in grades 3-12, and consist of seven members per team.

By placing first in the Regional Competition, teams are then invited to the NYS Competition.

The State Street team led by Chad Rogers and Kathy Herr consisting of Faith Azzam, Elijah Blades, Owen Herbst, Jack Miller, Oliver Jirousek, Celia Rogers, and Madison Rossi earned first place in Division I with their problem "Catch Us If You Can."

Another State Street team led by Todd Marshall consisting of Keady Azzam, Tommy Cattalani, Elsa Marshall, Stephanie McClintic, Caroline McSwain, Claire Neumann, and Jonah Williams earned first place in Division I with their problem "It's Time, OMER."

A third State Street team led by Corrie Carroll and Kelly Barnes consisting of T. Walker Barnes, Hugh Carroll, Evelyn Buhl, Asher Kosub, Declan Pfau, and Hannah Whipple also earned first place honors in Division I with their problem "Ready, Set, Balsa Wood."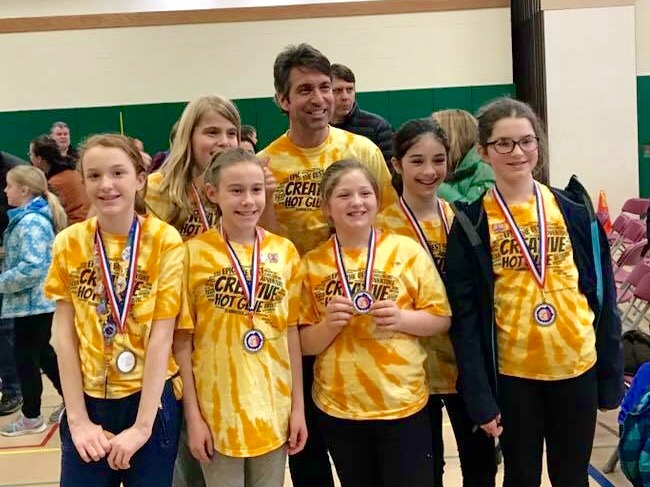 The Skaneateles Middle School Division II team led by Maureen Ryan consisting of Sami Matthews, Wyatt Thompson, Rose Kosub, Sam Weiss, Marc Vreeland, Yasmin Glazier, and Olivia Rossi claimed top honors with their problem "It's Time, OMER."

The fifth and final first place effort came from the Skaneateles High School Division III team led by Kelley McQuiggan and Tami Rigling consisting of Lexie Cottrill, Connor Kenan, Emma Tidd, Marc Sapareto, Devin Churchill, Marissa Reilly, and Alex Moro.

Teams placing first or second in the state level competition will then be invited to take part in the world competition in May at Michigan State University. Since 1982, sixteen Skaneateles teams have advanced to the world competition, with two first place champions.

Three of the remaining five Skaneateles teams finished in the runner-up position for their group, narrowly missing a chance to advance to the state level. A full list of results is below.

The 10 Skaneateles Central School teams (eight from State Street School, one from the Middle School, and one from the High School) were formed in October and have been working on their problems since. Meeting one to two times per week to prepare, solutions for the problems are devised totally by the team members.

Teams are coached by volunteer parents and teachers, but all work is hands-on for kids and hand-off for adults.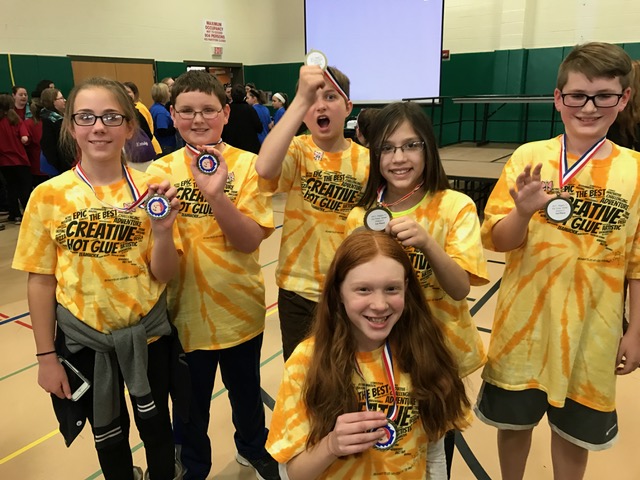 Each year Odyssey of the Mind provides a set of problems for teams to take on. This year's problems are titled "Catch Us If You Can", "Odd-a-Bot", "It's Time, OMER", "Ready, Set, Balsa, Build", and "To Be Continued: A Superhero Cliffhanger."

Specific descriptions of the problems can be found online at www.odysseyofthemind.com.

Keep in touch with events and happenings in relation to the Skaneateles Central School District by visiting online at www.skanschools.org or following the district's Facebook page at www.facebook.com/Skaneateles.Schools/.

Name
Problem
Team Name
Div.
Coach
DIV. I Teams
State Street Students
Placed 1st - Moving onto the NYS competition on 4/8/17 in Binghamton
Faith Azzam
Catch Us If You Can
State Street Ele Sch - TM A
I
Chad Rogers
Elijah Blades
Catch Us If You Can
State Street Ele Sch - TM A
I
& Kathy Herr
Owen Herbst
Catch Us If You Can
State Street Ele Sch - TM A
I
Rogers/Herr
Jack Miller
Catch Us If You Can
State Street Ele Sch - TM A
I
Rogers/Herr
Oliver Jirousek
Catch Us If You Can
State Street Ele Sch - TM A
I
Rogers/Herr
Celia Rogers
Catch Us If You Can
State Street Ele Sch - TM A
I
Rogers/Herr
Madison Rossi
Catch Us If You Can
State Street Ele Sch - TM A
I
Rogers/Herr

Placed 2nd
Addison Badami
Catch Us If You Can
State Street Ele Sch - TM B
I
Karen Dunphy
Carter Corbett
Catch Us If You Can
State Street Ele Sch - TM B
I
and Nicole Harvey
Aldo DeBartelo
Catch Us If You Can
State Street Ele Sch - TM B
I
Dunphy/Harvey
Jack Harvey
Catch Us If You Can
State Street Ele Sch - TM B
I
Dunphy/Harvey
Elenore Manning
Catch Us If You Can
State Street Ele Sch - TM B
I
Dunphy/Harvey
Chloe Corbett
Catch Us If You Can
State Street Ele Sch - TM B
I
Dunphy/Harvey
Placed 2nd
Chloe Alexander
Odd-A-Bot
State Street Ele Sch - TM A
I
Christian Bell
Parker Bell
Odd-A-Bot
State Street Ele Sch - TM A
I
and Elizabeth Major
Devin Eldredge
Odd-A-Bot
State Street Ele Sch - TM A
I
Bell/Major
Jack Holst
Odd-A-Bot
State Street Ele Sch - TM A
I
Bell/Major
Owen Leonardis
Odd-A-Bot
State Street Ele Sch - TM A
I
Bell/Major
Max Major
Odd-A-Bot
State Street Ele Sch - TM A
I
Bell/Major
Placed 4th
Ella Arroyo
It's Time, OMER
State Street Ele Sch - TM A
I
Thomas Andrews
Vivian Carroll
It's Time, OMER
State Street Ele Sch - TM A
I
and Kelly Little
Heschel Eidel
It's Time, OMER
State Street Ele Sch - TM A
I
Andrews/Little
Alyssa Franciamone
It's Time, OMER
State Street Ele Sch - TM A
I
Andrews/Little
Matthew Leonardis
It's Time, OMER
State Street Ele Sch - TM A
I
Andrews/Little
Maura Leonardis
It's Time, OMER
State Street Ele Sch - TM A
I
Andrews/Little
Nico Moro
It's Time, OMER
State Street Ele Sch - TM A
I
Andrews/Little
Placed 1st - Moving onto the NYS competition on 4/8/17 in Binghamton
Keady Azzam
It's Time, OMER
State Street Ele Sch - TM B
Todd Marshall
Tommy Cattalani
It's Time, OMER
State Street Ele Sch - TM B
I
Todd Marshall
Elsa Marshall
It's Time, OMER
State Street Ele Sch - TM B
I
Todd Marshall
Stephanie McClintic
It's Time, OMER
State Street Ele Sch - TM B
I
Todd Marshall
Caroline McSwain
It's Time, OMER
State Street Ele Sch - TM B
I
Todd Marshall
Claire Neumann
It's Time, OMER
State Street Ele Sch - TM B
I
Todd Marshall
Jonah Williams
It's Time, OMER
State Street Ele Sch - TM B
I
Todd Marshall
Placed 1st - Moving onto the NYS competition on 4/8/17 in Binghamton
T. Walker Barnes
Ready, Set, Balsa Wood
State Street Ele Sch - TM A
I
Corrie Carroll
Hugh Carroll
Ready, Set, Balsa Wood
State Street Ele Sch - TM A
I
& Kelly Barnes
Evelyn Buhl
Ready, Set, Balsa Wood
State Street Ele Sch - TM A
I
Carroll/Barnes
Asher Kosub
Ready, Set, Balsa Wood
State Street Ele Sch - TM A
I
Carroll/Barnes
Declan Pfau
Ready, Set, Balsa Wood
State Street Ele Sch - TM A
I
Carroll/Barnes
Hannah Whipple
Ready, Set, Balsa Wood
State Street Ele Sch - TM A
I
Carroll/Barnes
Placed 2nd
Regan Barnes
To Be Continued: A Superhero Cliffhanger
State Street Ele Sch - TM B
I
Denise Persampieri
Jackson Bone
To Be Continued: A Superhero Cliffhanger
State Street Ele Sch - TM B
I
Denise Persampieri
Graham Bradley
To Be Continued: A Superhero Cliffhanger
State Street Ele Sch - TM B
I
Denise Persampieri
Ryan Persampieri
To Be Continued: A Superhero Cliffhanger
State Street Ele Sch - TM B
I
Denise Persampieri
Jake Salzhauer
To Be Continued: A Superhero Cliffhanger
State Street Ele Sch - TM B
I
Denise Persampieri
Ansley Simmons
To Be Continued: A Superhero Cliffhanger
State Street Ele Sch - TM B
I
Denise Persampieri
Placed 6th
Torin Bennett
To Be Continued: A Superhero Cliffhanger
State Street Ele Sch - TM A
I
Sandy Scott
Megan Charlton
To Be Continued: A Superhero Cliffhanger
State Street Ele Sch - TM A
I
Sandy Scott
Clara Johnson
To Be Continued: A Superhero Cliffhanger
State Street Ele Sch - TM A
I
Sandy Scott
James Lovier
To Be Continued: A Superhero Cliffhanger
State Street Ele Sch - TM A
I
Sandy Scott
Patrick Scott
To Be Continued: A Superhero Cliffhanger
State Street Ele Sch - TM A
I
Sandy Scott
DIV. II
Middle School Students
Placed 1st - Moving onto the NYS competition on 4/8/17 in Binghamton
Sami Matthews
It's Time, OMER
Skaneateles Mid Sch
II
Marueen Ryan
Wyatt Thompson
It's Time, OMER
Skaneateles Mid Sch
II
Marueen Ryan
Rose Kosub
It's Time, OMER
Skaneateles Mid Sch
II
Marueen Ryan
Sam Weiss
It's Time, OMER
Skaneateles Mid Sch
II
Marueen Ryan
Marc Vreeland
It's Time, OMER
Skaneateles Mid Sch
II
Marueen Ryan
Yasmin Glazier
It's Time, OMER
Skaneateles Mid Sch
II
Marueen Ryan
Olivia Rossi
It's Time, OMER
Skaneateles Mid Sch
II
Marueen Ryan
DIV. III
High School Students
Placed 1st - Moving onto the NYS competition on 4/8/17 in Binghamton
Lexie Cottrill
To Be Continued: A Superhero Cliffhanger
Skaneateles HS
III
Kelley McQuiggan
Connor Kenan
To Be Continued: A Superhero Cliffhanger
Skaneateles HS
III
and Tami Rigling
Emma Tidd
To Be Continued: A Superhero Cliffhanger
Skaneateles HS
III
McQuiggan/Rigling
Marc Sapareto
To Be Continued: A Superhero Cliffhanger
Skaneateles HS
III
McQuiggan/Rigling
Devin Churchill
To Be Continued: A Superhero Cliffhanger
Skaneateles HS
III
McQuiggan/Rigling
Marissa Reilly
To Be Continued: A Superhero Cliffhanger
Skaneateles HS
III
McQuiggan/Rigling
Alex Moro
To Be Continued: A Superhero Cliffhanger
Skaneateles HS
III
McQuiggan/Rigling