Skaneateles Central Schools to Receive School Safety Excellence Award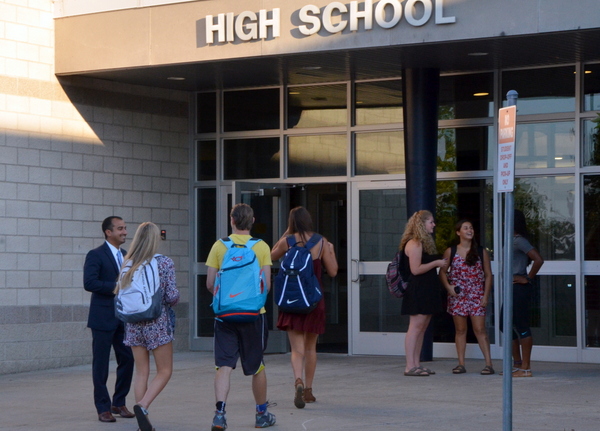 PHOTO: Skaneateles High School Principal Gregory Santoro greets students as they prepare to start a new day. The Skaneateles Central School District will be presented with Utica National's 2017 School Safety Excellence Award at the upcoming Utica National Affinity Group meeting in the spring. (Lori Ruhlman Photo)
SKANEATELES, NY (February 6, 2017) – The Skaneateles Central School District will be presented with Utica National's 2017 School Safety Excellence Award at the upcoming Utica National Affinity Group meeting in the spring.
The district achieved at the Titanium with Honors level.
The honor, presented annually, recognizes school districts' safety efforts as they work to help keep students, staff and visitors safe.
In achieving this honor, the Skaneateles Central School District demonstrated its desire to create a safe and secure learning environment for the children of the district; an enjoyable and productive work environment for its staff; and a comfortable and pleasant experience for visitors to the district.
Utica National's School Safety Excellence Award Program has three levels – titanium, platinum, and gold – in which schools can earn a meritorious distinction by meeting specific criteria to enhance overall safety.
Categories covered include bullying prevention programs, playground safety and other areas, and are measured using specific quantifiable surveys.
"We are very pleased that Utica National has recognized the efforts of our team in building a framework that supports a safe and healthy school climate," said Ken Slentz, Skaneateles Central School District Superintendent. "While we still have work to do in this regard, this framework will allow us to continue to improve our ability to create excellent learning opportunities for all of our students."
Keep in touch with events and happenings in relation to the Skaneateles Central School District by visiting online at
www.skanschools.org
or following the district's Facebook page at www.facebook.com/Skaneateles.Schools/.