District News
<< Previous Next >> Viewing 281 - 300 of 441 stories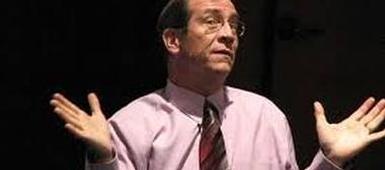 "Admissions Game" returns Feb. 8:

Save the date! "The Admission Game ® " comes to Skaneateles Interactive workshop demystifies the college admission process Peter Van Buskirk will present "The Admission Game" in the Skaneateles High School auditorium at 7 p.m. Wednesday, February 8. Families with students in high school will find the content of the two-hour program insightful and useful. Juniors and their parents are urged to attend. A different program will be presented to sophomores and juniors on Thursday during the school day. Students who are able are encouraged to attend both the evening and the daytime presentations because the content is different, said Counselor Barb Drozynski. "The evening program includes a behind-the-scenes discussion ...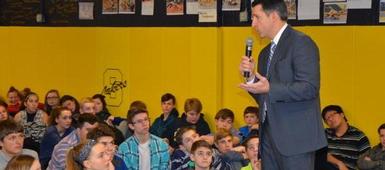 Students meet new MS principal:

When Mike Caraccio met with middle school students this week, he posed a question he assumed might be on their minds: "How did the guy directing traffic in the parking lot end up in the middle school principal's office?" Caraccio joined the district this fall and – in addition to his duties as Humanities Coordinator – he helped with MS morning traffic flow. That was likely the place where students and parents saw him, until January 3 when he took over the very visible position of middle school principal. To answer that question, and to show why he is "super excited" to be in his new role, Caraccio shared a bit of his personal story – and then shared some of his thoughts on key topics: learning, hard work and kindness. But first, ...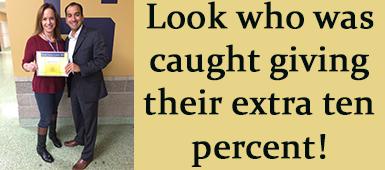 Three staff members receive the Laker Way Award in December!:

Each month The Laker Way award is given to a faculty or staff member(s) who has been nominated by one of their peers for going above and beyond in their job and their service to others. There were three recipients in the month of December! Kevin Blowers – Maintenance Crew (not available for picture) I would like to nominate Kevin Blowers for the 110% award. Kevin is a team player who has a do it right the first time attitude and the knowledge and work ethic to back it up. Not only does Kevin have a strong work ethic, Kevin communicates and understands the urgent and non-urgent issues here at Skaneateles Central schools. He exercises caution when needed and also is available for any issue that may arise. Since Kevin has started here at the district he ...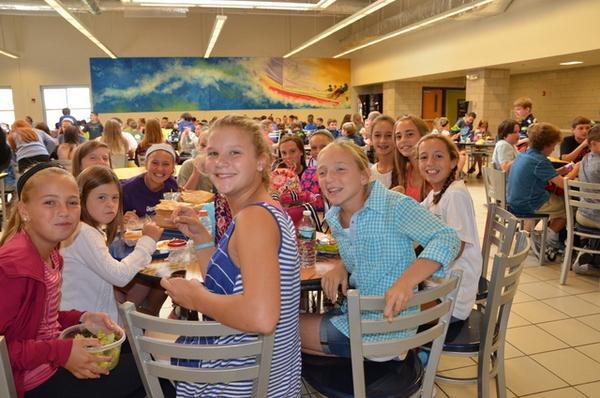 Administrative shifts to benefit SCS:

MS Principal Gary Gerst will become full-time Director of Learning (overseeing special education program and teachers). Mike Caraccio, middle photo, will become MS Principal. Pat Brown, right, will become K-12 Humanities Coordinator. When Skaneateles students return from the holiday vacation, they will find familiar faces in new places. Middle School Principal Gary Gerst will become the full time Director of Learning for the district and Mike Caraccio will take over as Middle School Principal. Caraccio currently is the 6-12 Humanities Coordinator. The changes were made at Tuesday's Board of Education meeting based on the recommendations of Superintendent Ken Slentz and will take effect January 3. The appointments are in ...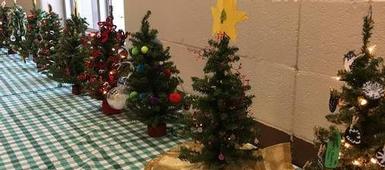 Students brighten the holidays:

By Jason Gabak, Skaneateles Press Most any time even a small gesture can make a big difference in the life of a family or individual. This is a lesson State Street teacher Heather Buff has seen firsthand and is a lesson she has worked to share with the students who pass through the halls of State Street. For the past six years students from each class have created miniature Christmas trees which are donated to less fortunate families. Buff found the inspiration for this project from her own life. "My husband's grandmother was in an assisted living facility and we brought her a little tree," Buff said. "For the people there it was something special and the idea kind of grew from there." Buff said Principal Steve Widrick has been ...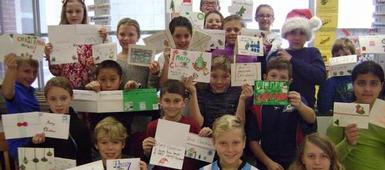 Twelve Days of Giving:

As part of their 12 Days of Giving, fourth graders in Pete O"Connor's class read holiday stories to first grade students at Waterman. This event was a big hit for students in both grades (see photos below). Other projects during their 12 Days of Giving have included the collection of pet food for the SPCA and the creation of cards for senior citizens, pictured above.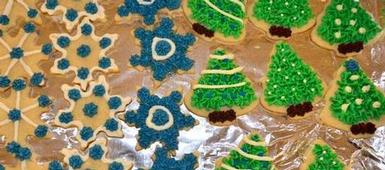 Community-wide cookie drive FRIDAY:

With the snow day, packaging for the community cookie drive is Friday! Help add sweetness to the Skaneateles Outreach holiday gift baskets for area families in need. Donate a dozen (or more!) to the Interact Club's annual cookie drive. Deliver to the MS/HS Office Friday, December 16, 7:30 a.m. to 2:30 p.m.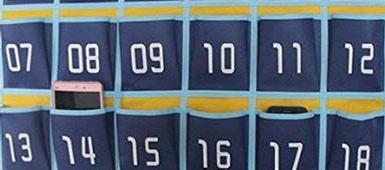 In the Rack or in the Pack!:

We have implemented a new school-wide initiative here at the high school with regards to student cell phone use. In an effort to give students the opportunity to spend the bulk of the school day "unplugged" without the distraction of incoming text messages and social media, etc. we are asking them to "check" their phones at the start of each class period by either concealing them in their backpacks or putting them in a cell phone "rack". The high school PTC has provided funding for soft "shoe rack" style cell phone holders to be placed in each and every classroom. Teachers will monitor phones being left and taken from the rack. Phones and devices will still be used as instructional tools during times that teachers deem appropriate ...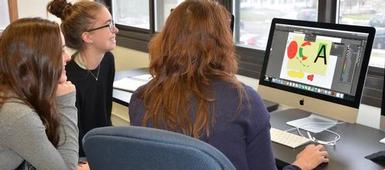 Real world experience in art class:

Great things happen when people step into our schools to share their expertise. Recently, three Adobe Illustrator experts from Chase Design spent an entire class period with students in Jessica Sawchuk's Graphic Design class. Andy Schweitzer, Bonnie Dudden, and Jon Cammarata are full time Graphic Designers from Chase. "There were a lot of Ah-HAHs and Oh Wows as students learned new things that they had been trying to figure out throughout their process," Sawchuk said. "We've been in their seats," Schweitzer said. "It is nice to tell them some of what we've figured out." He said designers at Chase also "cross polinate" by sharing what they've learned. Sawchuk hopes to have the designers continue ...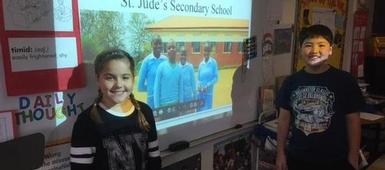 Students collect coins for children in Uganda:

Students in Ellen Wolford's fifth grade class at State Street School are spearheading a schoolwide coin collection in an effort to help children in rural Uganda. The educational needs of the Ugandan children became personal for the local students through the experiences of Wolford's son, Matthew Wolford, a 2012 Skaneateles graduate who is living in a rural village and working at a medical clinic. Recently, Wolford's students went to other classrooms at State Street School to share a PowerPoint that tells the story of how children in Matthew Wolford's village cannot take school for granted. They are often without supplies or the opportunity to attend school. Wolford graduated from Union College in 2016 and received ...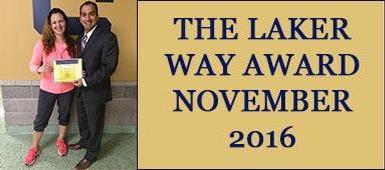 Look who was "Caught Giving Their Extra Ten Percent":

We're all doing it, but please join us in congratulating the person nominated for The Laker Way award for November 2016! Jenel Fortino I would like to nominate Jenel Fortino!! She appears to effortlessly juggle endless tasks that promote Skaneateles spirit. She spends a great deal of extra time and money without looking for recognition or praise, and gets the job DONE!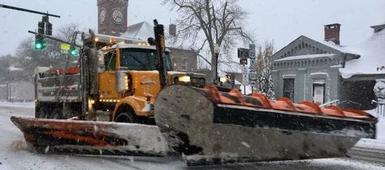 SCS to be closed second straight day:

Superintendent Ken Slentz has canceled school for the second day, due to the relentless snow storm that has paralyzed much of Central New York. With reports of snowfall continuing until 4 a.m. Tuesday, Slentz determined it would be almost impossible for local crews (as well as school district crews) to keep up. He urged everyone to travel safely. Happy Thanksgiving.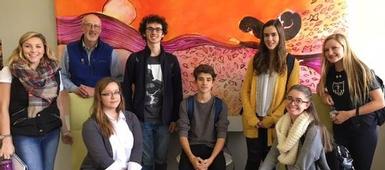 Students explore careers in visit to Chase Design:

Skaneateles High School art students were given an inside look at Chase Design during a career exploration field trip. Students in Jessica Sawchuk's graphic design and advanced art classes as well as some independent study students learned about the history of the Chase Design, what they do, and how the creative process works. Doug Whitehouse told the students that a designer must first find out what the problem is -- and then solve it. He said it is important to have self-confidence and to present ideas with pride. "Ultimately you must do your own best work, and choose what to present." He said. "We call our team members problem solvers," he said. "We don't look for people who are super specialized; we want people who have many different life experiences." ...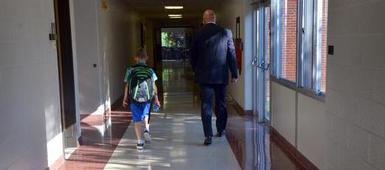 Will a school close? Research continues ...:

Will the Skaneateles Central School District close a building in the near future, as a result of declining enrollment? District continues to research best building usage As students and staff continue through the busy day-to-day of another school year, Superintendent Ken Slentz and others continue to look into the future of the district and its facilities. A key question involves whether or not to close a building due to declining enrollment. A recommendation about facility use is targeted to be made in the 2017-18 school year, Slentz recently said in a report to the Board of Education. That is when he expects to present a plan by the Strategic Planning Steering Committee, an advisory group that has met regularly for the past two years. "We have the good fortune ...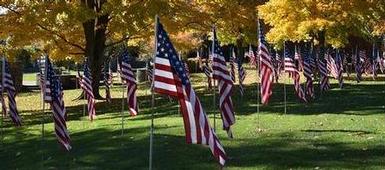 Promoting empathy, patience and learning:

Photo by Marianne Angelillo. American flags in honor of and in memory of our veterans flap in the wind in Clift Park, thanks to the Skaneateles girls lacrosse team. In an email early this morning, Superintendent Ken Slentz encouraged faculty and staff to display the understanding, empathy, patience, and teaching of life lessons that he sees on a daily basis in our schools – and then some. He said that regardless of their personal reaction to the election results, it is important for adults/faculty/parents to "understand that our students have much less capacity for dealing with all of the very public and personal emotions, statements, sentiments, etc." He suggested teachers provide appropriate forums for discussion. "There is so much to learn ...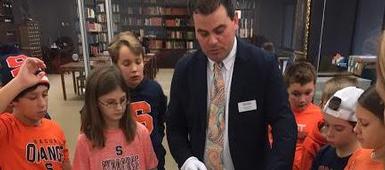 Fifth graders explore SU library:

Seth Benjamin's students were the Skaneateles fifth graders to visit Bird Library at Syracuse University as part of an effort to expose students to college libraries. "They were like sponges that day," said State Street School Librarian Karen Watson. "They were great. It was so amazing. They asked such thoughtful questions." Benjamin was thrilled to see his students spend a day as mini college students. "The kids were enthusiastic, respectful, and great representatives of State Street School," he said in an email. "Chief Curator Andrew Saluti gave a tour of the library and then led us to the Special Collections level. We took part in the Ancient World Writing Systems program....wow! We were able to ...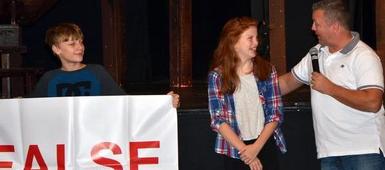 "We are a sum of the choices we make":

The day after talking with parents about raising the "Snapchat generation," Jerry Ackerman spoke to Skaneateles Middle School students and High School students during two lively assemblies. He didn't need to teach students how to use social media, as he did their parents. Instead, he worked hard to show them why they must use it very very carefully. Realizing that teenagers might just roll their eyes over conversations about internet safety, Ackerman used one dramatic example after another to show the magnitude of what might seem like small choices. He showed how small choices could impact their own future selves, and he gave examples of how small choices could destroy another person or serve to make a wonderfully positive difference ...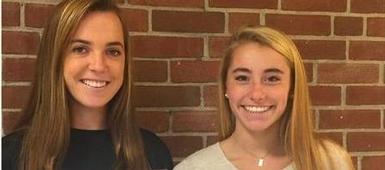 SCS photographers recognized:

Skaneateles High School seniors Kyla Sears and Mae McGlynn were finalists in the 8th Annual Bousquet Holstein PLLC Photography Contest for Syracuse City and Onondaga County high school students. The theme of the 2016 photo contest was "Street Scenes." Over 200 photos were juried and Sears and McGlynn were among the 23 finalists. They were honored in a recent reception at the Everson Museum. This year's theme, Street Scenes, was based on the Everson Museum of Art's exhibition: Helen Levitt: In the Street. According to the Syracuse New Times: "Helen Levitt: In the Street, showcases an artist who shot New York City streets for almost 70 years, creating poignant and humorous photos referencing ...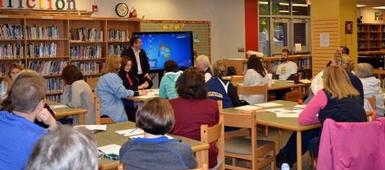 Conference day focused on "keeping our promise":

While students in Skaneateles Central Schools enjoyed the day off during a recent Staff Development Day, staff members were meeting, learning and talking about ways to provide positive and successful learning experiences for all students. The conference day was titled "Keeping our Promise – Guaranteeing One Year's Growth for Each of Our Students". A large group of faculty met with Tommy Thompson to focus on the development of Learning Intentions and Success Criteria which better allow students to demonstrate the knowledge and skills demanded by the standards. Teacher assistants and aides focused on how to best work with students with disabilities in a session led by Gary Gerst, pictured above. In addition, Josh Hares, who ...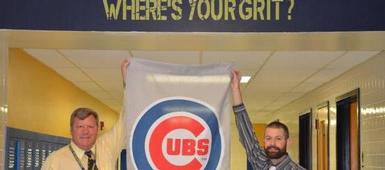 Cubs and fans exhibit real grit:

Director of Technology Paul Blair, left, and Special Education Teacher Josh Hares, right, hold up the Cubs banner next to the signs that represent the Middle School's emphasis on Grit. They also stand in the cafeteria with the students they hope to teach about the importance of failing forward, and perseverance. Blair found a kindred Cubs spirit when Hares started in the district this fall. Hares said he was practically born cheering for the Cubs, even though the family lived in NY. Ask Paul Blair about those Cubs, and you get lessons in history, loyalty, perseverance and learning. Blair, the district's director of technology, was born in Chicago and grew up in northern Indiana. He was introduced to the Cubs by his great grandmother ...
<< Previous Next >> Viewing 281 - 300 of 441 stories